The legend of the Akabeko
A great earthquake that hit the Aizu area in 1611 leveled the main hall of Enzoji Temple and houses in Yanaizu as well, creating massive damage. In 1617, a new hall was rebuilt on the present rock. The timber used at the time was donated by villages upstream of the Tadami River and was transported to Yanaizu by the river, but the people were at a loss as to how to get the timber from the river onto the big rock. Just then, a herd of red cattle appeared out of nowhere to help carry the timber. Thanks to them the main hall was completed, and this is where the story of Akabeko originates. Folk crafts featuring Akabeko are widely popular as talismans to ward off disaster and to pray to the gods.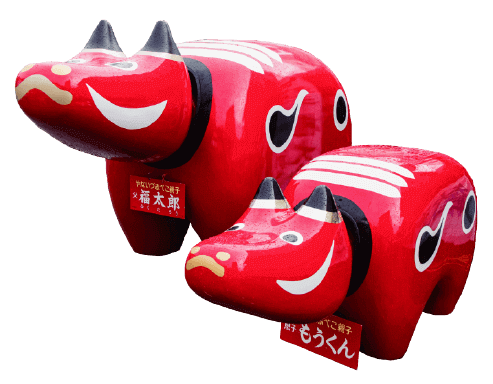 Yanaizu Akabeko Family
The Yanaizu Akabeko Family has four members, father Fukutaro, mother Mitsuko, son Mo-kun, and daughter Ai-chan. Find all members of the family while walking around town.

Japan Color

Akabeko Home Town Aizu Yanaizu